Making mouth watering gongura pachadi
Posted on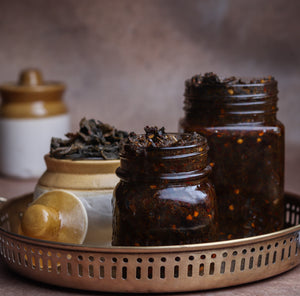 Gongura Pachadi or chutney (Pitwaa in Hindi- sorrel leaves in English) is an all time favorite of Andhra or Telugu people. It is variously called Andhra Maatha or Sakambhari Devi in sacred veneration by its huge fan following of "Bhojana Priyas" or "foodies" as we call them now. Its blend of tang and spice is unique among pickles.
Unlike mango, Gongura is available all through the year and can be prepared as a temporary chutney to last a week or can be made to last through the year.
Again like Avakaya, this is a life savior for bachelors and time savior for home cooks.
Hopefully by now you have understood that this is one of the VIP category chutneys. So let's get down to the nitty gritty of its preparation.

Ingredients:
Big bunches of Red gongura -- 15(When the leaves are plucked, they weigh approx 1/2 kg)
Mustard seeds--50grams
Fenugreek or Methi seeds--25 grams
Red chillies- 100grams
Garlic- 1 pod
Sesame Oil- 1/4 litre
Hing- 1/2 teaspoon
Rock salt powder - 50grams
Turmeric powder - 1/2 teaspoon.
Mustard seeds (for seasoning)- 1 teaspoon.

Method:
Choose the Red gongura variety because of its inherent sourness. In case you use the green variety, tamarind has to be added.
Separate the leaves from the stems and wash thoroughly. Dry the leaves in shade on a clean cloth without overlapping so that the moisture is removed.
Dry roast the mustard seeds till they splutter and the methi seeds till they turn dark brown.
Fry the chillies in a little oil. Powder the above three ingredients.
Take 2 tablespoons of oil and fry the leaves till they change color. Whipper the fried leaves in a mixie along with the powder prepared earlier and the salt.
Heat the remaining oil in a kadai , splutter the mustard seeds, add hing and the garlic and switch off the gas.After cooling, mix the leafy mixture thoroughly with oil.
Ensure to add adequate amount of oil to preserve through the year.

Needless to say that the combination of hot rice and Gongura pachadi or chutney is an irresistible "come hither" for food lovers.

So, Hurry, don't waste anymore time - order on Avakaya.com and do justice to your life and your palate.
Get it here - https://www.avakaya.com/products/gongura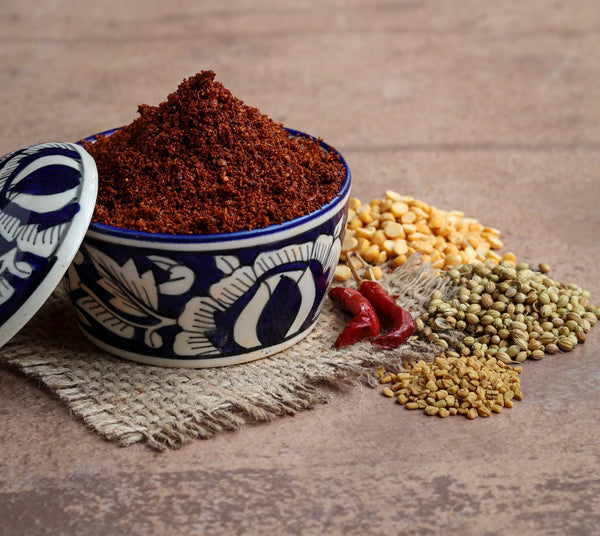 Sambar is an all time favorite with all South Indian households. In fact it is so much associated with Madras (now Chennai) that the two cannot be separated from one another. It is versatile like Amitabh Bachan - with its universal appeal to the young and old alike. 
read more